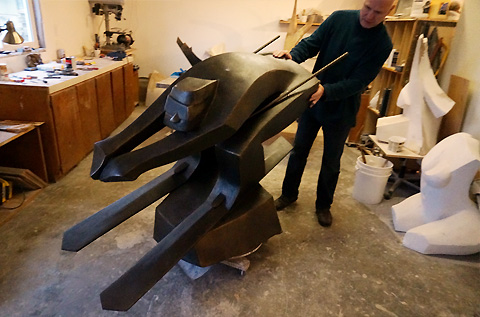 Pavel Barta was born in the Czech Republic, he worked as a graphic designer in a Publishing House in Prague. During that time he began to consider an "escape" from computer art and used material such as wood, clay, paper, and metal to create miniature sculptures. He took art class at Holar School of Art in Prague. His first exhibition took place in Prague in 1996. Each miniature sculpture is original and unique as he does not use molds or patterns.
He came to Canada in 1997. While living in 100 Mile House, BC, he became interested in stone sculptures. He carves from soft stones like soapstone, chlorite, and wonderstone. His sculptures capture movement and energy using simple lines in a style that is recognizably Pavel.
In 2006 Pavel moved to Kelowna, BC. Here he became more involved with bronze. He creates his originals in oil-based clay. Except for the rough casting, Pavel enjoys doing the whole process of "lost wax casting" himself. This gives him total control over all finishing steps, from the rough shaping and filing to the final buffing and patina.
Pavel's sculptures are displayed in several galleries in British Columbia and Alberta. His artwork found place in private collections across Canada, Europe, USA, New Zealand, and Australia. He had one-man shows in Quesnel, Williams Lake, 100 Mile House, Hope, Coquitlam, Kelowna and was part of a group show in North Vancouver. He was a guest artist at Ars Longa art show in Kelowna in 2007, 2008 and 2012. His sculpture design was chosen as The Okanagan Arts Council Award for 2008. In 2012 Pavel finished two public art projects: Installation of 16 sculptures in the new foyer of Kelowna General Hospital, and also the entrance signs for the Village of Clinton.
Since April 2014 Pavel lives and works in his studio in Campbell River. He received an Award of Excellence during the exhibition in Campbell River Art Gallery in 2014. His outdoor sculpture was chosen for display in Victoria, BC, as part of the "Oak Bay Arts Alive 2016" public sculpture program. Pavel's design was chosen and used for street banners in Campbell River, and his bronze sculpture of a breaching Humpback Whale was chosen as Campbell River Local Hero 2018 award.
Pavel works in various media – clay, stone, wood, concrete, bronze, and fiberglass to create sculptures of different sizes – from miniature carvings to several feet tall outdoor sculptures.
His unique sculptures and carvings are created with one purpose - to bring joy to those who stop to look at them.



"The best reward I can get is to know that thanks to my art someone's day became brighter."

Pavel Barta
Galleries that represent Pavel's work:
Press Release:
May 25, 2018 Campbell River Mirror
November 10, 2016 Campbell River Mirror
August 24, 2016 Victoria's Best Kept Secret - Shaw TV
June 1998 - 100 Mile House Pree Press
Suppliers:
Pyramid Bronze Works Ltd.

In Bronze